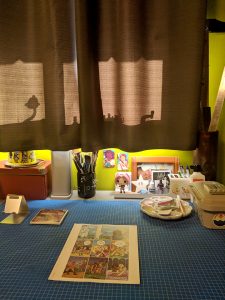 Before we get started, The Gift of the Firebird is free to read online at the link below:
http://www.cherryspaceship.com/the-gift-of-the-firebird/
give it a whirl if you haven't yet.
A few years ago english subs of Urasawa Naoki no Manben started popping up online.  From the first note of the theme song I felt something strong. As I watched each different artist work and speak, I started to remember what it was like when I used to work and speak. I still had my pile of reasons and excuses not to do anything,  the best life of a comic artist who bears down all their will and every hour of their day on their work is closed off to me. I don't want to stupidly burn myself out like I did last time I tried to make comics either.  The pied piper melody of the Urasawa Naoki no Manben theme song kept at me though.  Find a way to get back to work.
OK.  Over the years I've watched probably way too many things scroll past my face online that I didn't take part in. One of them being the Comics Workbook Composition Competition, run by Pittsburgh artist Frank Santoro.  In 2015 the contest format was 9 panel grid.  I didn't take part in that competition, but I wanted to.  I went so far as to print out the grid.  I really thought about it.  The fact that each panel of the grid was the size of an index card stuck with me. But ultimately I let it roll by.  When I found myself on the other side of Manben,  I remembered the index cards and the nine panel grid.
I also remembered that before my burn out, I wanted to make a comic of a story that I read from the copy of Edmund Dulac's Fairy Book that I got for myself because I wanted to look at the illustrations.  I only read one of the stories in the book –  I put up a pdf scan of the story here:
edmunddulacsfairybook – The Firebird
I'll leave it up for a while unless it starts to cause a problem.  I'd say it's worth reading, it has a sweet clarity and sparkling humor at times, I think it's really meant to be read out loud to someone else for best results.  I wanted to make a comic of this story from the minute I read it, but wanting to do something and figuring out how to actually do something are pretty different.  There were a few lackluster efforts launched, but burn out is real, so nothing ever got rolling.
So it came to pass, when I started looking for a way to get back to work, it was pretty clear what I could do.  But how could I do it?  I don't want to break my life over comics.  How much time do I really have in a day to work on something extra like this?  How much can I do without hurting myself and others?  As an experiment, I decided to participate in inktober 2016. October is a busy month. There's parties to go to and costumes to make and fun times to have.  Could I really work EVERY DAY of a busy month?  I guess I could! Inktober 2016 was a full success, and it was fun as heck too.  Now I knew what I had to work with, and I had something to work on.  I found a way to get back to work! Thank you Urasawa Naoki no Manben.
I'm extremely grateful that I was able to make this comic. I do hope I can use this work to make some more work happen. Now that the fire is burning again, I want to keep it tended.  If you're a writer out there who wants to pitch something to somewhere that pays,  and you like how I draw things, please do drop me a line – there's a contact section on the site here.  In the mean time, I'm gonna keep working.  Thanks for coming along for the ride!